Builders' Conference – The UK Construction Industry's Premier Data Provider

Whether you are a main contractor, a specialist subcontractor, a supplier or a consultant, The Builders' Conference has something for you. Including exclusive offers for our Members.

If you are looking to forecast market trends, their data of regional and sector statistics will be invaluable.
If you want to find new work and monitor project awards and tenders, their portal will keep you up to date.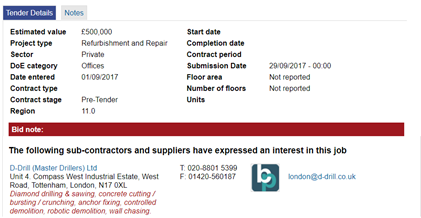 Portal Tender Detail Screen Example
Builders' Conference use their data to create their very own, unique award winning real time league of contractors. To view which contractors are winning work in the UK Construction Industry: Click here
They have also recently launched a jobs board where you can search for jobs across the UK, post your CV and advertise your own vacancies: Click here
Please do check their website for more information on the comprehensive service and packages available.
Exclusive Premium Membership Offers
Courtesy of Builders' Conference, our Premium Members receive a 'pre-tenders reported and contracts awarded data bundle' worth £250. In addition, they offer Premium Members a free trial to their online portal. You'll be able to source jobs available in the areas you work and express your interest directly.
Basic members who are already Builders' Conference members can claim a discounted offer towards the cost of Builder's Profile Premium Membership.
From your Dashboard, choose 'Upgrade Membership'
On the 'Make a Payment' page choose Builders' Conference as your Trade Association
The Discounted rate will be applied – Saving you, 27% off the full price
Do let the Support Team member know when making a telephone payment so they can apply your discount